R&D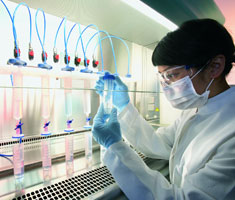 Madras Pharma is a technology driven company supported by extensive Formulation Development and Analytical Development departments; coupled with well-equipped laboratories and best talented technical officials of the industry. Madras Pharma has plant wise R&D (Both formulation and analytical) departments equipped with best of facilities.
Great emphasis is laid on continuous improvement in process, quality and development of new products.
Our laboratory is fully equipped for physical, chemical testing along with micro-biological testing. Madras Pharma has centralized R&D Unit for all the dosage forms comprising of crème de la crème in the pharma industry.
At the R&D center not only the focus is on new product development but we also work on making the existing ones better.